Geo King
Geo King
is my first app using
Node.js
,
Socket.IO
and
Box2D
.
It's a real-time multiplayer online geography quiz.
Current version focuses on U.S. States.
As a player, you are to find and stay on a specific place.
The more you stay, the faster your score grows.
It's basically the same principle as the children's game
King of the Hill
.
A game consists of 9 rounds (9 states to find), each round lasts approximately 15 seconds.
You can join ongoing game at anytime, score resets after each game.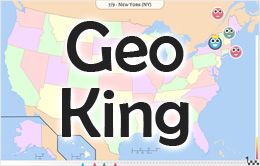 Play!